27 Jan 2022
Top 50 most-funded startups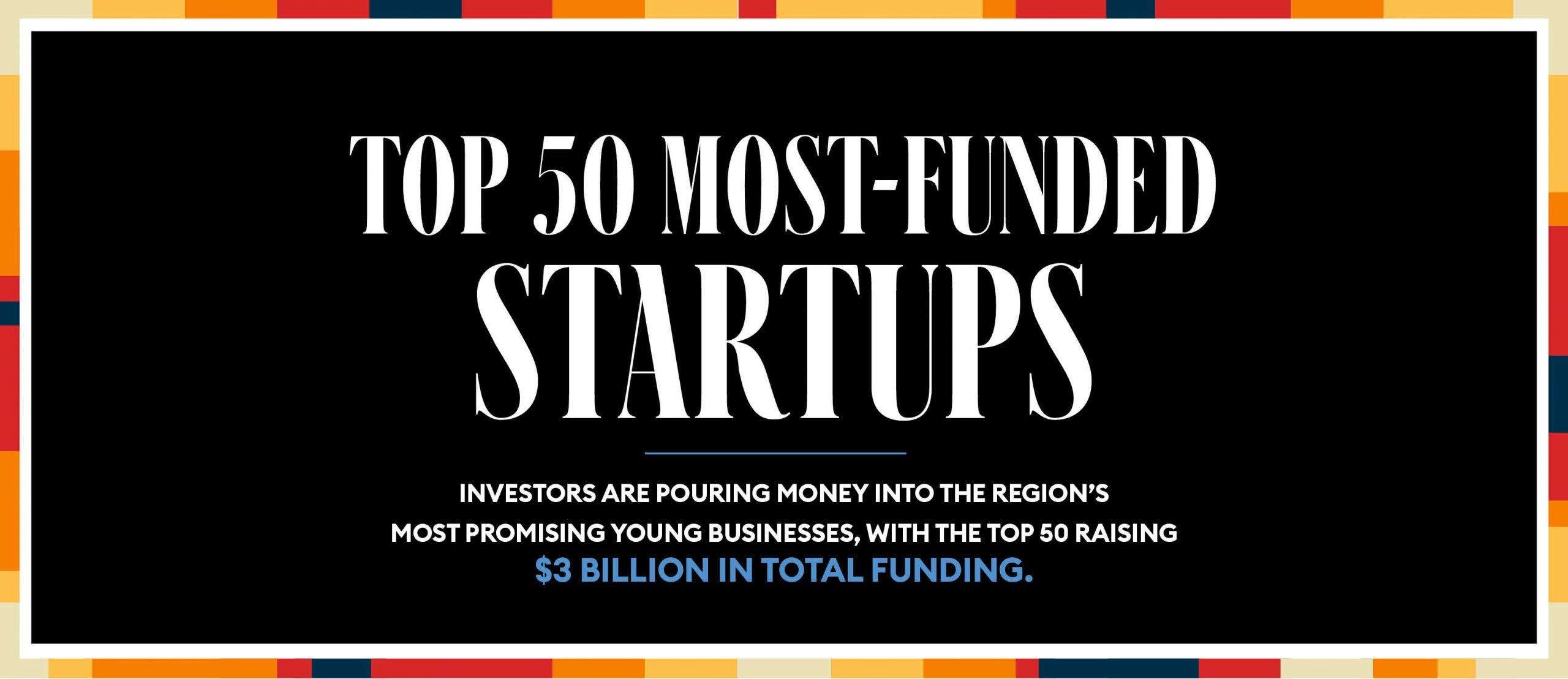 This year's 50 Most-Funded Startups In MENA have raised nearly $3 billion in total funding, with the top 10 alone amassing $1.9 billion.
The U.A.E. dominates the list, with 22 startups securing nearly $1.8 billion combined—over 60% of the list's total funding. It is followed by Saudi Arabia, which is home to 12 startups that raised a total of $520.4 million, while Egypt's seven entries raised a total of $248.6 million.
Fintech and e-commerce are the most represented sectors, with 13 and 11 entries, but food-tech firms have raised the most money, with $874.9 million in total funding. This is largely thanks to cloud-kitchen operator, Kitopi, which tops this year's ranking after bagging $804 million.
Agri-tech business Pure Harvest Smart Farms is second with $272 million in total funding. Subscription video-on-demand service STARZPLAY and Fintech platform tabby came third and fourth, with $150 million and $130 million, respectively.
Buy-now-pay-later platform Tamara is the highest funded in Saudi Arabia having raised $116 million, while e-commerce player MaxAB is Egypt's most funded startup with $62.5 million in total funding. The 2022 list includes 30 newcomers, such as North African ride-hailing and delivery startup Yassir and fintech firm PostPay.
Arab sovereign wealth funds had a healthy investor appetite in 2021. Sanabil Investments, wholly owned by the Saudi sovereign wealth fund (PIF), poured capital into Sary and Foodics, whereas the U.A.E.'s Mubadala Investment company backed tabby and Sarwa.
Mergers and acquisitions also heated up in 2021. Swvl agreed to merge with U.S.-based SPAC Queen's Gambit Growth Capital, making it a publicly-listed company and the first $1.5 billion unicorn from the Middle East to be listed on Nasdaq. Egypt-based Fintech Halan raised $120 million in 2021, entering into a share swap agreement with MNT BV, a Netherlands corporation. And U.S. operator of delivery kitchens, logistics, and proximity hubs, REEF Technology Inc, acquired the U.A.E.'s cloud kitchen startup iKcon for an undisclosed amount.
According to the Global Startup Ecosystem Report 2021, the MENA region had four emerging ecosystems in the world's top 100 emerging ecosystems in 2021—including Dubai, Cairo, Riyadh, and Abu Dhabi. The study indicates that the total number of late-stage funding rounds in MENA almost doubled in the last five years, while the total late-stage funding amount has also doubled.
Methodology
To qualify for the list, startups had to be no more than seven years old. They had to have raised at least $15.5 million in total funding. Cut off for funding was December 20, 2021. We excluded startups that acquired, merged, or went public in stock markets. New entries are marked with an asterisk (*).
1. Kitopi
Total funding: $804 millionTech-powered food companyFounders: Mohamad Ballout, Saman Darkan, Bader AtayaNationality: Lebanese, British, AmericanInvestors: Softbank, Chimera, ADQ, Nordstar, Dogus Group, BECO, Knollwood, CE VenturesHeadquarters: U.A.E.
Established in: 2018
Kitopi operates in the U.A.E., Saudi Arabia, Kuwait, and Bahrain with over 80 cloud kitchens and 3,500 employees serving 200 brands, such as Papa Johns, Shake Shack, Jollibee, Nathan's Famous, and iHOP. In 2021, Kitopi raised $715 million—89% of its total funding of $804 million. Its $415 million Series C in July was led by SoftBank Vision Fund 2, with participation from Chimera, DisruptAD, B. Riley, Dogus Group, Next Play Capital, and Nordstar, making it one of the Middle East's newest unicorns. Before launching Kitopi, CEO and cofounder Mohamad Ballout cofounded confectionery business BMB. Other cofounder Saman Darkan previously worked with startups My Metro Talk, Central Tickets, and Little Bedoo, while Bader Ataya previously cofounded the e-commerce website Mumzworld.
2. Pure Harvest Smart Farms
Total funding: $272 millionTechnology-enabled agribusinessFounders: Sky Kurtz, Mahmoud Adi, Robert KupstasNationality: American, Emirati, American/LithuanianInvestors: IMM Investment, Abu Dhabi Investment Office, ADQ, Franklin Templeton, Sancta Capital, Shorooq Partners, Shuaa, Wafra International Investment Company, Mission 2040, Archer Private Investments, other institutional and individual investorsHeadquarters: U.A.E.Established in: 2017
Pure Harvest designs, builds and operates controlled environment agriculture technology to produce greenhouse fruits and vegetables, with three farms in the U.A.E. and two projects under development in Saudi Arabia and Kuwait that will increase the area it covers to 18 hectares. It produces a variety of crops, including tomatoes, leafy greens, and strawberries. The startup was jointly founded by three Stanford graduates who met in the U.A.E. The company secured $64.5 million in convertible funding in October 2021, led by South Korea's IMM Investment Corp and eyeing expansions across the GCC, along with Asian countries such as Korea, Singapore, Malaysia, Indonesia, and the Philippines.
3. STARZPLAY*
Total funding: $150 millionSubscription video-on-demand serviceFounders: Maaz Sheikh, Danny Bates, Khaled Benchouche, Karin BaggstromNationality: American, British, French, SwedishInvestors: State Street, Lionsgate, SEQ Capital Partners, Delta Partners, Ruya PartnersHeadquarters: U.A.E.Established in: 2014
STARZPLAY is a subscription video-on-demand service that streams movies, TV shows, documentaries, and Arabic content to 21 countries across MENA and Pakistan in four languages. With over 1.8 million subscribers, it partners with global studios, including STARZ, MGM, 20th Century Studios, Disney, Warner Bros, Universal, Discovery, and Fox International Channels. STARZPLAY raised over $125 million in funding from Lionsgate, State Street Capital Group, and SEQ Capital and secured its first independent debt financing of $25 million from Abu Dhabi-based Ruya Partners in 2021.
4. tabby
Total funding: $130 millionBuy now, pay later platformFounders: Hosam Arab, Daniil BarkalovNationality: Canadian, RussianInvestors: Global Founders Capital, STV, Arbor Ventures, Mubadala Investment Capital, Delivery Hero, CCVA, Raed Ventures, Global Ventures, MSA Capital, VentureSouq, Outliers VC, JIMCO, HOFHeadquarters: Saudi Arabia, U.A.E.Established in: 2019
tabby provides buy now, pay later solutions to over a million active shoppers across the U.A.E. and Saudi Arabia, who use it to access over 3,000 brands, including Adidas, IKEA, SHEIN, and Marks & Spencer. In 2021 alone, tabby raised $50 million in equity funding and $50 million in debt financing, bringing its total funding to over $130 million and its valuation up to $300 million. CEO and cofounder Hosam Arab previously cofounded online fashion retailer Namshi, which was fully acquired by Emaar Malls.
5. Tamara*
Total funding: $116 millionBuy now, pay later platformFounders: Abdulmajeed Alsukhan, Turki Bin Zarah, Abdulmohsen AlbabtainNationality: SaudiInvestors: Checkout.comHeadquarters: Saudi ArabiaEstablished in: 2020
Tamara allows online and in-store shoppers in Saudi Arabia, the U.A.E. and Kuwait to split their payments across three installments. The Riyadh-headquartered startup was the first to acquire a sandbox license from the Saudi Central Bank in its category in 2020 and currently partners with over 2,000 merchants and around two million customers. It has processed transactions of around $266 million in 2021 and works with brands such as IKEA, SHEIN, Faces, Adidas and L'Occitane, among others. Abdulmajeed Alsukhan, the CEO and cofounder of Tamara, previously cofounded Habli in 2017, a Saudi-based logistics provider for grocery delivery. Habli was acquired in the same year by Nana, which Alsukhan joined as cofounder—it has raised nearly $29 million to date.
6. Sary
Total funding: $112 millionB2B marketplaceFounders: Mohammed Aldossary, Khaled AlsiariNationality: SaudiInvestors: Sanabil Investments, Wafra International Investment, Endeavor Catalyst, VentureSouq, Rocketship.vc, Ra'ed Ventures, MSA Capital, Derayah VC, STV, angel investorsHeadquarters: Saudi ArabiaEstablished in: 2018
Sary connects small businesses such as mini-supermarkets, restaurants, cafes, and hotels with a network of fast-moving consumer goods wholesalers via mobile and web applications. It has secured over $112 million to date including $105.5 million in 2021 and plans to use the new funding to expand across the GCC region. Sary claims to have witnessed 14-fold growth in its topline between 2020 to 2021. Saudi's Public Investment Fund's wholly-owned subsidiary Sanabil Investments and Wafra International Investment are among its notable investors.
7. Postpay*
Total funding: $63.5 millionBuy now, pay later platformFounders: Tariq Sheikh, Dani Molina CarmonaNationality: Mauritian, SpanishInvestors: Afterpay, Touch Ventures, other investorsHeadquarters: U.A.E., Saudi ArabiaEstablished in: 2019
Postpay offers shoppers the option to split their payments across three monthly installments with no interest or fees. The startup works with partner stores and brands such as Ounass, West Elm, and Bath and Body Works. Postpay currently operates in the U.A.E. and Saudi Arabia, with plans to expand across the Middle East within the next 12 months. It claims to never charge interest from the customer, shifting the costs to retailers as a premium above payment gateway fees.
8. MaxAB*
Total funding: $62.5 millionB2B e-commerce platformFounders: Belal El Megharbel, Mohamed BenhalimNationality: Egyptian, LibyanInvestors: BECO Capital, 4DX Ventures, Flourish Ventures, RMBV, IFC, Crystal Stream Capital, Endeavour Catalyst, Endure CapitalHeadquarters: EgyptEstablished in: 2018
MaxAB is a B2B e-commerce and distribution platform that serves traditional retailers across Egypt and Morocco. It has served over 80,000 retailers and fulfilled more than 1.5 million orders in less than three years. The startup raised $55 million in a Series A round in 2021. In August 2021, MaxAB expanded into Morocco and plans to expand to at least two more countries in 2022. MaxAB's CEO Belal El Megharbel, a former Careem employee, is a graduate of Virginia Tech.
9. iMile Delivery Services
Total funding: $50 millionLogistics and courier services providerFounders: Rita Huang Zhen, Naveen Joseph, Gao Wenli, Nancy ChenNationality: Chinese, Indian, Chinese, ChineseInvestors: Undisclosed- Chinese Venture CapitalistHeadquarters: U.A.E.Established in: 2017
iMile provides logistics and last-mile delivery services to vendors in China, the U.A.E., Saudi Arabia, Mexico, Oman, and Morocco. It secured $40 million in a Series A financing round at a $350 million valuation in November 2021. According to Bloomberg, TikTok parent company ByteDance has invested in iMile, although it has not yet named its investors. iMile plans to extend its services to other sectors such as telecom and banking and will expand into Africa and Latin America. iMile's CEO Rita Huang was previously the CTO of Alibaba Joint Venture in Dubai and a country manager for Huawei.
10. iWire Group*
Total funding: $47 millionIoT communications service providerFounders: Ahmed Fasih Akhtar, Vyomesh Thakker, Firoz KarumannilNationality: IndianInvestors: Future Technology LLC, Seed Investors, Noor Capital PJSC, BpifranceHeadquarters: U.A.E.Established in: 2017
iWire builds communication infrastructures for IoT solutions for utility companies, smart cities, smart facilities, and logistics service providers. The startup secured $34 million in a Series A funding round in 2021, led by Noor Capital, with participation from the French sovereign wealth fund, Bpifrance. With operations across India, Middle East, Turkey, and Africa, iWire's customers include Abu Dhabi City Municipality, Michelin, Total, the Government of Dubai, DP World, Abu Dhabi Ports, and the RTA, among others. iWire plans to offer connected products such as utility meters, gas sensors, health watches, smart ID, smoke detectors, container trackers, and street lighting solutions.
10. Quiqup*
Total funding: $47 millionOn-demand delivery platformFounders: Bassel El Koussa, Tim Linssen, Danny Hawkins, Federico FerraroNationality: Lebanese, Dutch, British, ItalianInvestors: JOBI Capital, Delivery Hero, Cedar Mundi, Transmed, AlchimiaHeadquarters: U.A.E.Established in: 2014
Quiqup's delivery solutions include on-demand, same-day, and scheduled deliveries. It also gives restaurants, retailers, and e-commerce businesses access to a fleet of couriers. Delivery Hero led a $5.5 million funding round in the startup in 2020, bringing its total amount of funding to $47 million. Strategic shareholders also include Cedar Mundi, JOBI Capital, and Transmed. Quiqup was launched in London before relocating to the U.A.E. It plans to expand its services across the GCC region.
12. Opontia*
Total funding: $46 millionE-commerce enablerFounders:Philip Johnston, Manfred MeyerNationality: British, AustrianInvestors: STV, Raed, GFC, Upper90, Presight Capital, Kingsway Capital, VentureSouq, Partners For Growth, Hosam ArabHeadquarters: U.A.E.Established in: 2021
Opontia acquires e-commerce brands and helps them scale, with a focus on businesses in the Middle East, Africa, and Europe. Opontia raised $46 million within less than nine months of launching from investors including Raed Ventures, Global Founders Capital, Presight Capital, and Kingsway Capital, among others. The startup has operations in the U.A.E., Saudi Arabia, Turkey, and Poland. It has acquired five undisclosed brands to date and plans to acquire 50 more by the end of 2022.
13. TruKKer
Total funding: $45 millionDigital freight networkFounders:Gaurav Biswas , Pradeep MallavarapuNationality: IndianInvestors: STV, RTF, IFCHeadquarters: Saudi ArabiaEstablished in: 2016
The truck aggregator operates a fleet of 40,000 trucks across Saudi Arabia, the U.A.E., Egypt, Bahrain, Jordan, Oman, Pakistan, and Turkey. TruKKer has over 550 B2B customers. The number of transactions processed through the platform hit 200,000 in 2021 compared to 5,000 in 2017. TruKKer was initially built as a tech-enabled aggregator of trucks for B2C home moving services before relocating to Dubai to apply the business model to the long-haul B2B sector.
14. Retailo*
Total funding: $44 millionB2B e-commerce platformFounders:Talha Ansari, Wahaj Ahmed, Mohammad NowkhaizNationality: PakistaniInvestors: Shorooq Partners, AgFunder, Arzan Capital, Abercross HoldingsHeadquarters: Saudi ArabiaEstablished in: 2020
Retailo started operations simultaneously in Saudi Arabia and Pakistan. The startup digitizes retail supply chains for SME retailers. Its warehousing space covers almost 200,000 square feet, and it has a fleet of nearly 200 vehicles serving 50,000 retailers. Cofounders Talha Ansari, Wahaj Ahmed, and Mohammad Nowkhaiz are three former Careem executives who teamed up to launch Retailo in July 2020 at the height of the COVID-19 pandemic. They raised $9 million in just nine months before securing an additional $35 million in a Series A round in late 2021.
14. Lucky App
Total funding: $44 millionCashback and installments applicationFounders:Ayman Essawy, Momtaz Moussa, Marwan KenawyNationality: EgyptianInvestors: Algebra Ventures, Lorax Capital Partners, other investorsHeadquarters: EgyptEstablished in: 2018
Lucky allows users to pay for goods in installments, as well as get discounts and instant cashback from over 25,000 stores such as Amazon, Jumia, Nike, Booking, KFC, Burger King, Spinneys, Metro, Sketchers, Ravin, B.Tech, and Tradeline. Lucky operates in Egypt and Morocco. The startup has more than 6.5 million registered users and processes three million annual transactions with an annual gross merchandise value of $50 million
16. Yassir*
Total funding: $43.25 millionRide-hailing and delivery platformFounders:Noureddine Tayebi, El Mahdi YettouNationality: AlgerianInvestors: Y Combinator, P1 Ventures. French Partners, ACE & Company, Venture Souq, WndrCo, DN Capital, Kismet Capital, Spike ventures, Quiet Capital, Endeavor Catalyst, FJ Labs, Venture Souq, Nellore Capital, Moving Capital, other individual investorsHeadquarters: Algeria, Tunisia, MoroccoEstablished in: 2017
Yassir offers on-demand services such as ride-hailing and last-mile delivery in 25 cities across Algeria, Canada, France, Morocco, and Tunisia, with over three million users. The startup secured $30 million in a Series A round in June 2021 with a plan to expand into west Africa and Europe while tapping into the fintech sector in 2022. Yassir has 40,000 partners, including drivers, delivery riders, merchants, FMCGs and wholesalers. The company's angel investors include the cofounder of Instacart Max Mullen, the founder of Farmville Sizhao Yang, and the former director of operations at Uber in Europe and China, Cleo Sham.
17. Trella*
Total funding: $43 millionDigital freight marketplaceFounders:Omar Hagrass, Ali el Atrash, Pierre Saad, Muhammad El GaremNationality: EgyptianInvestors: Maersk Growth, Raed Ventures, Algebra Ventures, Vision Ventures, Next Billion Ventures, Venture Souq, Foundation Ventures, 4DX Ventures, Flexport, other individual investors.Headquarters: EgyptEstablished in: 2018
Trella is a B2B technology platform and trucking marketplace connecting shippers with carriers. It has operations in Egypt, Saudi Arabia, and Pakistan, and almost 500 shipping partners, including Coca-Cola, Maersk, Mondi, Henkel, Orascom, and Cemex. It also has 28,000 driver partners, with the value of goods transferred reaching $680 million. Trella was cofounded by former Uber employees Omar Hagrass and Ali El Atrash, former Vezeeta employee Pierre Saad, and former OLX employee Muhammad El Garem.
18. Leena AI*
Total funding: $40 millionAI-powered HR assistantFounders:Adit Jain, Mayank Goyal, Anand PrajapatiNationality: IndianInvestors: Y-Combinator, Greycroft, Bessemer Venture PartnersHeadquarters: U.A.E., U.S.Established in: 2018
Leena AI is an autonomous conversational AI platform that helps companies with HR tasks. Headquartered in New York and Dubai, Leena's notable customers include Nestle, Puma, P&G, Coca-Cola, Lafarge Holcim, and Abbott. Three million employees across 60 countries use Leena AI, which is available in more than 60 languages, including Arabic. The startup's cofounders - Adit Jain, Mayank Goyal, and Anand Prajapati - were recognized among Forbes 30 Under 30 in 2020.
18. PayTabs
Total funding: ConfidentialPayments solutions companyFounders:Abdulaziz Al JoufNationality: SaudiInvestors: Saudi Aramco, other private investorsHeadquarters: Saudi ArabiaEstablished in: 2014
PayTabs offers B2B ecommerce solutions across 49 industries, with electronic invoicing services to businesses, including digital invoicing, pay by QR code or secure social media payment links. The startup currently operates in over seven markets including the U.A.E., Saudi Arabia, and Egypt. Founder Abdulaziz Al Jouf created PayTabs primarily for SMEs, which now make up 80% of its clients.
20. Floward*
Total funding: $34.2 millionFlowers and gifts e-commerce platformFounders: Abdulaziz B. Al Loughani, Mohammed AlarifiNationality: Kuwaiti, SaudiInvestors: STV, Impact46Headquarters: GCCEstablished in: 2017
Floward sells fresh-cut flowers, gifts, and products such as cakes, chocolate, and perfumes with same-day delivery. It operates in 36 cities across nine countries, including the GCC, Egypt, Jordan, and the U.K. The Floward app has been downloaded more than a million times with one million impressions monthly. CEO and cofounder Abdulaziz B. Al Loughani is also a managing partner at Faith Capital and was a cofounder and CEO of Talabat until 2010.
21. ekar
Total funding: $34 millionPersonal mobility systemsFounders:Vilhelm HedbergNationality: NorwegianInvestors: Polymath Ventures, other investorsHeadquarters: U.A.E.Established in: 2016
ekar offers on-demand access to a network of carshare and subscription leasing vehicles, along with other mobility options, including peer-to-peer rentals. The startup operates across seven cities, with a fleet of 2,300 vehicles and 250,000 users in Saudi Arabia and the U.A.E. It is launching in Thailand in January 2022 and plans to expand into Malaysia, Turkey, and Egypt later in the year.
22. Capiter*
Total funding: $33.4 millionB2B e-commerce platformFounders:Mahmoud Nouh, Ahmed NouhNationality: EgyptianInvestors: Quona Capital, MSA Capital, Savola, Shorooq Partners, Foundation Ventures, Accion Venture Lab, Derayah Ventures, Next Billion VenturesHeadquarters: EgyptEstablished in: 2020
Capiter is a B2B marketplace that enables merchants to order products through an e-commerce checkout and receive credit on their purchases. Before launching Capiter in July 2020, Mahmoud Nouh was a cofounder and a former COO of Egyptian ride-hailing unicorn Swvl, which was valued at $1.5 billion through a SPAC deal in 2021. Capiter serves over 60,000 merchants and more than 1,200 sellers with a team of 1,500 employees.
23. Breadfast*
Total funding: $30 millionOn-demand grocery delivery platformFounders:Mostafa Amin, Muhammad Habib. Abdallah NofalNationality: EgyptianInvestors: Vostok New Ventures, JAM Fund, Shorooq Partners, Endure Capital, Tinder's co-founder Justin Mateen, YC Continuity Fund, 4DX Ventures, FlexportHeadquarters: EgyptEstablished in: 2017
Founded as a scheduled bakery service delivering fresh bread and pastries to customers' doorsteps, Breadfast now offers more than 2,500 supermarket items such as coffee, dairy, meat, fruit, vegetables, and personal hygiene products, as well as a limited number of electronic items. The company has 250,000 registrations and employs 2,000 people. It raised $26 million in November 2021 and plans to have a presence in 11 Egyptian cities by April 2022. Before launching Breadfast, CEO and cofounder Mostafa Amin cofounded EgyptianStreets and wassel.io.
23. BitOasis*
Total funding: $30 millionCrypto-asset exchangeFounders:Ola Doudin, Daniel RobenekNationality: Jordanian, CzechInvestors: Wamda, Jump Capital, Alameda Research, Global Founders Capital, Pantera Capital, Digital Currency Group, NXMHHeadquarters: U.A.E.Established in: 2015
BitOasis allows users to buy, sell, and trade over 30 cryptocurrencies, such as Bitcoin, Ethereum, and XRP, among other currencies. The fintech startup has recorded trading volumes exceeding $3 billion as of nine August 2021, with a two-fold surge in users in the first half of 2021 compared to the same period in 2020. The Jordanian entrepreneur Ola Doudin was ranked among Forbes Middle East's list of "10 Women Behind Middle Eastern Tech Brands 2021". Along with her partner Robenek, she led BitOasis to operate in the U.A.E., Saudi Arabia, Bahrain, Kuwait, Oman, Jordan, Egypt, and Morocco.
23. Eyewa
Total funding: $30 millionEyewear omnichannel direct-to-consumer retailerFounders:Anass Boumediene, Mehdi Oudghiri, Abdullah Al RugaibNationality: Moroccan, Moroccan, SaudiInvestors: Kingsway, Nuwa Capital, French Partners, Endeavor Catalyst, Derayah, Palm Drive, Hardy Capital, EQ2 Ventures, Wamda Capital, GS Shop, Equitrust, 500 startups, Khawarizmi, Faith CapitalHeadquarters: Saudi Arabia, U.A.E.Established in: 2017
With operations in the U.A.E., Saudi Arabia, Kuwait, Qatar, Oman, and Bahrain, eyewa is an eyewear omnichannel direct-to-consumer retailer. It started as a pure-play e-commerce company before expanding into a physical retail network, having opened 16 stores in 2021 in Saudi Arabia and the U.A.E. It has since built house brands, including lifestyle eyewear brand 30Sundays and fast fashion brand Blackout, as well as natural color contact lens brand Layala. In June 2021, eyewa raised $21 million. It plans to boost its presence in new areas across MENA and expand its house brands and offline operations.
26. Telr
Total funding: $29 millionOnline payment gatewayFounders:Khalil AlamiNationality: AmericanInvestors: iMena, Cashfree Payments, TilaHeadquarters: U.A.E.Established in: 2014
With a presence in the U.A.E. and Saudi Arabia, Telr enables merchants to accept payments online in over 120 currencies and 30 languages. It also provides other services, including social commerce, QR Codes, anti-fraud protection, BNPL solutions, and a tool for creating an online store in minutes. Telr processes over 500,000 transactions monthly and claims to have double-digit growth month-over-month. In November 2021, it raised an equity investment of $15 million from the Indian payments and API banking solutions company, Cashfree Payments. It plans to now expand across MENA.
27. Nana
Total funding: $28.9 millionOnline grocery platformFounders:Sami Alhelwah, Abdulmajeed Alsukhan, Bakr Elsherif, Ahmed AlsamaniNationality: Saudi, Saudi, Egyptian, SaudiInvestors: MEVP, STV, Saudi Venture Capital Company, Watar Partners, Wamda Capital, others.Headquarters: Saudi ArabiaEstablished in: 2016
Nana is an e-grocery marketplace that serves 18 cities across Saudi Arabia. It has raised $28.9 million in five years. Nana officially launched its Dark Store in September 2020 covering Riyadh, and expanded its operations across Saudi and Egypt. Cofounder and CEO Sami Alhelwah previously cofounded cloud management solutions company Sadeem and e-commerce firm Matajer. He was also the CEO of ExaServe, a cloud service provider. Cofounder Abdulmajeed Alsukhan also recently cofounded Tamara, a fintech startup that raised $116 million in 2021.
28. Foodics
Total funding: $28 millionAll-in-one restaurant and retail management solution and fintech companyFounders:Ahmad Al Zaini, Mosab AlothmaniNationality: SaudiInvestors: Sanabil Investments, STV, Raed Advanced Investment Co Ltd, Al-Riyadh Al-Wa'id Investment CompanyHeadquarters: Saudi ArabiaEstablished in: 2014
Foodics helps restaurants digitally manage operations, including monitoring sales, accepting payments, and managing orders and menus. Since its establishment, Foodics has processed over five billion orders while catering to 12,000 food and beverage brands. The startup has eight offices in Saudi Arabia, the U.A.E., Jordan, Kuwait, Egypt, and the Netherlands. It raised $20 million in funding in 2021 led by Saudi's Public Investment Fund's wholly-owned subsidiary Sanabil Investments. It was also recognized by the Saudi Central Bank as a fintech company.
29. Abwaab*
Total funding: $27.5 millionEd-tech platformFounders:Hamdi Tabbaa, Hussein Alsarabi, Sabri HakimNationality: JordanianInvestors: BECO Capital, 4DX Ventures, GSV Ventures, Watar Partners, Adam Tech Ventures, Endure Capital, Equitrust, ISSF, EQ2 Ventures, Foundation Ventures, Spartech VenturesHeadquarters: JordanEstablished in: 2019
Abwaab works to improve the out-of-school learning experience for secondary school students in Jordan, Egypt, and Pakistan. It offers video lessons, various types of assessment, and performance-tracking features, among other services. It claims that its number of active users grew ten times throughout the 2020/21 academic year. In July 2021, it acquired Edmatrix, a Pakistan-based social e-learning platform. Cofounder and CEO Hamdi Tabbaa is a former general manager of Uber for the GCC and Levant, Sabri Hakim is a former general manager of Careem for the Levant, and Hussein Alsarabi is a former director of technology and product development at Mawdoo3.com.
30. Expensya*
Total funding: $25.6 millionCloud-based expense management softwareFounders:Karim Jouini, Jihed OthmaniNationality: TunisianInvestors: BPI France, ISAI, Seventure Partners, TDR, MAIF Avenir, Silicon Badia, business angelsHeadquarters:Tunisia, FranceEstablished in: 2015
Expensya offers cloud-based expense management software, which automates the business spend management process for more than 5,000 clients, including H&M, Credit Agricole, and Volvo. It is currently used in more than 100 countries with over 500,000 active users and over $33 million transactions processed per week. In 2021, Expensya raised $20 million from MAIF Avenir, a French innovation capital fund, and Silicon Badia. It now plans to expand its reach across mainland Europe.
31. Sehteq
Total funding: $25.5 millionDigital health insuranceFounders:Saif Aljaibeji, Noor Al KamilNationality: American/Iraqi, American/IraqiInvestors: 971 Capital, Synergy Capital, Beehive, Cloud KlairHeadquarters: U.A.E.Established in: 2017
Sehteq offers health insurance plans to individuals and SMEs in the U.A.E and Oman. It began operations in February 2018 with the acquisition of the first third-party administrator license. Today it serves more than 700,000 customers with a network of more than 2,000 providers. It had processed five million claims as of December 2021. The startup's 2020 revenue totaled $47 million, while 2021's estimated revenue is $51 million. Sehteq is set to be acquired by Cloud Klair in 2022.
32. Sarwa
Total funding: $25 millionOnline independent investment platformFounders:Mark Chahwan, Nadine Mezher, Jad SayeghNationality: Canadian, Lebanese, FrenchInvestors: Mubadala Investment Company, 500 Startups, Kuwait Projects Company, Shorooq Partners, ADQ, Middle East Venture PartnersHeadquarters: U.A.E.Established in: 2017
Sarwa is an investment and personal finance platform. With more than 50,000 registered users, it provides a hybrid model with access to on-demand investment experts and customer support. Backed by prominent investors such as the Mubadala Investment Company and 500 Startups, the company recently launched Sarwa Trade, a self-directed zero-commission platform that allows clients to buy and sell over 4,000 publicly traded stocks and ETFs listed on major U.S. exchanges. In August 2021, Sarwa raised $15 million in a Series B round. Nadine Mezher, cofounder and CMO of Sarwa, ranked fifth on Forbes Middle East's "Top 10 Women Behind Middle Eastern Tech Brands 2021" list.
32. Tarabut Gateway*
Total funding: $25 millionOpen banking platformFounders:Abdulla AlmoayedNationality: BahrainiInvestors: Tiger Global, DIFC, Target GlobalHeadquarters: U.A.E.Established in: 2018
Tarabut Gateway is a regulated open banking platform that connects a regional network of banks and Fintechs via an application programming interface that helps facilitate and distribute personalized financial services. Having started in Bahrain, Tarabut Gateway raised $13 million in seed funding in February 2021 and another $12 million in November. The platform has offices across Bahrain, the U.A.E., and the U.K. It recently partnered with Zain Bahrain to launch telco open banking payments.
34. Kaykroo*
Total funding: $24.4 millionCloud kitchen platformFounders:Jihad El Eit, Fawaz Al OtaibiNationality: Lebanese, SaudiInvestors: Abdulmajid Abdulaziz Al Hokair, Abdulrahman Al Rashed, Kamal Puri, other InvestorsHeadquarters: U.A.E.Established in: 2020
Kaykroo operates 20 cloud kitchens in the U.A.E. and Saudi Arabia, delivering 250,000 orders monthly. Kaykroo raised over $21.4 million in funding during 2021 from notable investors such as Abdulmajid Abdulaziz Al Hokair and Abdulrahman Al Rashed. Over the next four years, it aims to have 50 brands offered from its kitchens across 50 locations in the region, generating a total of $500 million in sales in its fifth year. Kaykroo has 20 operating brands with an additional 15 brands in the pipeline for 2022.
35. Rasan*
Total funding: $24 millionFintech companyFounders:Moayad Alfallaj, Suliman Alfallaj, Thamer AlfallajNationality: SaudiInvestors: Impact46Headquarters: Saudi ArabiaEstablished in: 2016
Rasan is a fintech startup that offers insurance and banking solutions through Tameeni Motor and Tameeni SME Health, among other platforms. It has attracted eight million users since its launch. Tameeni enables retail customers to compare insurance prices and coverage, then select and pay for their policy of choice. Other brands under the fintech startup include Treza, which supports vehicle lease-to-own teams at banks across Saudi. Rasan's services are currently available in Saudi, with offices in Riyadh, Dubai, and Cairo. The startup raised $24 million in a round led by Impact46 in November 2021.
35. RizekTotal funding:
$24 millionOn-demand servicesFounders: Abdallah Abu SheikhNationality: JordanianInvestors: ADQ, Peak, RozanaHeadquarters: U.A.E.Established in: 2019
Rizek is a super app that allows users in the U.A.E., Saudi Arabia, and Egypt to request services across categories such as homecare, car services, beauty, and healthcare. It claims to have recorded an increase of 800% in revenue and 700% in customer base as of June 2021. With 80 employees, the app launched PCR testing at home at the height of the pandemic in September 2020. Rizek's founder Abdallah Abu Sheikh launched another startup called "Barq" in November 2021 to provide smart mobility solutions.
37. Toters
Total funding: $23.1 millionQ-commerce delivery tech platformFounders:Tamim Khalfa, Nael HalwaniNationality: Canadian, LebaneseInvestors: BY, Phoenician Funds, MEVP, other investorsHeadquarters: LebanonEstablished in: 2017
Toters connects customers with retailers and local couriers to deliver goods from any grocery store, restaurant, or other retail shops in Lebanon and Iraq. With over 350 employees, the startup operates in over 10 cities with 4,000 partners and more than 400,000 customers.
38. Syarah*
Total funding: $23 millionAutomotive online marketplaceFounders:Fayez Alanazi, Salah AlsharifNationality: Saudi, LibyanInvestors: Impact46, Elm company, Budget, Vision Ventures, angel investorsHeadquarters: Saudi ArabiaEstablished in: 2015
Syarah is an online marketplace for buying and selling new and used cars in Saudi Arabia. After raising $20 million in a Series B round in August 2021, it plans to broaden its offering and provide further complementary services along with establishing its own distribution centers in Saudi Arabia. Syarah sold over 6,000 cars online and aims to grow its inventory and sales over the next few months.
39. AZOM*
Total funding: $22.5 millionTech startup designs, develops, and sells consumer hardware and softwareFounders:Mohamad AlmunajemNationality: SaudiInvestors: AssrAljawal, angel investorsHeadquarters: Saudi ArabiaEstablished in: 2020
AZOM designs, develops, and sells electronics and computer software. It has raised $22.5 million since inception in 2020 from Assr AlJawal and angel investors. AZOM sells its products in retail shops and online in Saudi Arabia and Oman, and online in other gulf countries. It will soon expand into Egypt. The startup has recently launched a smartphone, AZOM River, as well as a smart watch, AZOM watch.
40. GluCare Health*
Total funding: $20 millionHybrid digital therapeutics companyFounders: Ali Hashemi, Ihsan AlmarzooqiNationality: American, EmiratiInvestors: Polymath VenturesHeadquarters: U.A.E.Established in: 2020
GluCare offers both in-clinic and virtual care for diabetic patients, using a remote continuous data monitoring platform and artificial intelligence. Through the company's app, patients can connect with a coach or a care team who can remotely monitor glucose, insulin dosages, sleep patterns, diet intake, actigraphy, heart rate variability and other parameters in real-time. GluCare's cofounder and managing director Ihsan Almarzooqi is also the chairman of Berkshire Hathaway Homeservices Gulf Properties, while cofounder Ali Hashemi was previously the founder of Amana Healthcare, which was acquired by Mubadala Healthcare in 2019
40. justclean
Total funding: $20 millionDigital cleaning serviceFounders: Athbi & Nouri Al Enezi, Ahmed Al MorsyNationality: Kuwaiti, Kuwaiti, EgyptianInvestors: Faith Capital, Mohammed Jaffar, angel investorsHeadquarters: KuwaitEstablished in: 2016
justclean was founded as an on-demand laundry marketplace, and has grown since to add SaaS and logistics to its business model. It provides logistics support to its vendors, while also providing laundry management support and a point-of-sales system. It currently provides its services to customers in five markets, including Kuwait, Bahrain, the U.A.E., Qatar, and Saudi Arabia, and expects to cover more of the GCC soon. Today, justclean works with over 500 laundries and employs over 200 people.
42. Nejree*
Total funding: $19 millionFashion e-commerce platformFounders: Ibrahim Al MogrenNationality: SaudiInvestors: Impact46, AlKhaila Investment CoHeadquarters: Saudi ArabiaEstablished in: 2018
Nejree is an e-commerce platform that sells sneakers and apparel from brands such as Adidas, Nike, Lacoste, Puma, Under Armour, Rebook, and Converse. It has also launched Nejree Closet, which is a "try now buy later" model, allowing consumers to try on products for free with no upfront payment before deciding whether or not to buy. Nejree raised $19 million led by Saudi-based VC firms and aims to grow its operations in the GCC. Founder Ibrahim Al Mogren is a former athlete.
43. Paymob*
Total funding: $18.5 millionDigital payments platformFounders: Islam Shawky, Alain El Hajj, Mostafa MennesyNationality: EgyptianInvestors: FMO, A15, Global venturesHeadquarters: EgyptEstablished in: 2015
Paymob enables merchants to accept and disburse payments through over 28 payment methods. It has operations in Egypt, Saudi Arabia, Jordan, and Pakistan. The fintech startup closed $18.5 million in a Series A round in 2021, led by U.A.E.-based Global Ventures. Its customer base has grown from 1,000 merchants before 2020 to over 50,000 in 2021. Cofounders Alain El Hajj, Mostafa Menessy, and Islam Shawky were on Forbes Middle East's "30 Under 30" list.
43. GrubTech*
Total funding: $18.5 millionCloud kitchen and restaurant management platformFounders: Mohamed Al Fayed, Mohamed Hamedi, Omar RifaiNationality: American, British, AmericanInvestors: Family offices, Addition, Oryx Fund, BY VenturesHeadquarters: U.A.E.Established in: 2019
GrubTech is an end-to-end kitchen operating system, which offers food aggregator services, online ordering, delivery and menu management, along with analytics. It delivers its services to 1,000 brand locations with clients such as Azadea, Majid Al Futtaim, Talabat Cloud Kitchen, Yo Sushi, and iKcon. The startup secured two funding rounds in 2021 totaling $16.4 million. GrubTech operates in 15 countries, including all six countries of the GCC, Jordan, Egypt, and Lebanon, and it plans to expand across North Africa and Southeast Asia.
45. Red Sea Farms*
Total funding: $18 millionAgri-tech startupFounders: Ryan Lefers, Mark Tester, Derya BaranNationality: American, Australian, TurkishInvestors: KAUST, RPDC, FII, Global Ventures, Wa'ed Aramco, Bonaventure Capital, AppHarvestHeadquarters: Saudi ArabiaEstablished in: 2018
Red Sea enables commercial farming using primarily saltwater and sunlight in harsh climates. It secured $16 million in its pre-Series A round in 2021 and plans to accelerate its expansion plans in Saudi Arabia and the Middle East, as well as explore growth opportunities in North America. Red Sea Farms plans to have an active U.S. site in 2022.
46. Beehive
Total funding: $17.5 millionSME-focused digital finance solutions providerFounders: Craig MooreNationality: BritishInvestors: Riyad TAQNIA Fund, DIFC, Cultiv8Headquarters: U.A.E.Established in: 2014
Beehive is a peer-to-peer lending platform, regulated by the Dubai Financial Services Authority. It provides digital finance solutions for SMEs, financial institutions, and investors. Since its establishment in 2014, the Dubai-based startup has helped 800 businesses borrow $250 million from 15,000 investors. Before founding Beehive, Craig Moore was the founder and COO of Butterfly Software, a U.K.-based data analytics and migration software company that was acquired by IBM in September 2012.
46. selfologi*
Total funding: $17.5 millionCosmetic treatment digital platformFounders: Tamer WaliNationality: CanadianInvestors: Tamer Wali, Xenel International GroupHeadquarters: U.A.E.Established in: 2021
Launched Q3 2021, selfologi is a digital platform where users can discover, learn about, and book cosmetic treatments. It plans to launch a booking feature in early 2022, where consumers will also have access to user-generated ratings and reviews to compare clinics and practitioners. With 34 employees, the startup operates in the U.A.E. and Saudi Arabia with plans for global expansion. Tamer Wali is also the partner the CEO of Imdad, a distributor of energy-based aesthetic medical devices, for over 30 years.
48. Homzmart*
Total funding: $17.2 millionOnline e-commerce platform for home goodsFounders: Mahmoud Mohamed Ibrahim, Ibrahim Mohamed IbrahimNationality: EgyptianInvestors: MSA Capital, Nuwa Capital, Rise Capital, Impact46, EQ2 Ventures, Outliers VenturesHeadquarters: EgyptEstablished in: 2019
Homzmart connects home goods and furniture manufacturers with end consumers. It sells more than 100,000 products from thousands of brands and merchants. It raised $15 million in a Series A round in May 2021 and plans to use the investment to expand across the region. It has lately expanded into Saudi Arabia. Cofounder and CEO Mahmoud Ibrahim was previously COO of Daraz, an online shopping and selling platform in Southeast Asia, while cofounder Ibrahim Mohammed previously worked with Jumia.
49. FoxPush*
Total funding: $16.5 millionCloud-based ad management platformFounders: Ahmed Elsayed, Mohammed AlmalkiNationality: Egyptian, SaudiInvestors: Angel investor, JgroupHeadquarters: U.A.E.Established in: 2016
Ad-tech startup FoxPush helps online businesses, publishers, advertisers, website owners and e-commerce brands to deliver and track advertising campaigns. Its solutions aim to increase customer base, boost engagement and enhance communication between brands and their audiences. With current operations in the GCC and 14 employees, FoxPush claims over 50,000 websites use its solutions, including L'Oreal Paris, Zain, Mazda, tajawal, and Abu Dhabi Media, among others.
50. Okadoc
Total funding: $15.6 millionPatient engagement platformFounders: Fodhil BenturquiaNationality: FrenchInvestors: Ithmar Capital, Bupa Arabia, ADQHeadquarters: U.A.E.Established in: 2018
Okadoc offers instant consultation booking, virtual appointments, online payments, and document sharing in the U.A.E., Saudi Arabia, and Indonesia. The health-tech startup secured $15.6 million through two funding rounds. Bupa, Daman, Mediclinic, Emirates Hospital, and Dubai Healthcare City are among the healthcare groups and insurers using Okadoc's services . In April 2021, Okadoc received approval by the Dubai Health Authority to be one of the first telehealth licensed platform in the U.A.E. Before founding Okadoc, founder and CEO Fodhil Benturquia was the Group CEO of Noon.com.
Original Article Here: https://www.forbesmiddleeast.com/lists/top-50-most-funded-startups/